The 50th Anniversary
Salute to Dennis Brain
Date
1st September 2007
2 & 7 PM
Place
Art Renaissance Akashi,
Honmachi, Akashi,
Japan
Ticket
50 invited guests only
Performers
Manami Yuasa
solo & 1st horn *
Wind Instrument Specialty of Soai University, Osaka. She made her solo debut playing Mozart's Concerto No.1 K412 on 6th May 2006.
Tomoe Mishima
2nd horn *
Takashi Wada
3rd horn *
Yukihiro Okitsu
4th horn *
Naoki Sakamoto
5th horn
Madoka & Yui Takeda
assistant horns *
Chiharu Yuasa
piano & wood block
* Akashi High School Music Club Alumni
Links
Today (BBC Radio 4)
East Midland Horn Festival
Kerry Turner (AHQ)
Dennis Brain Conservatorio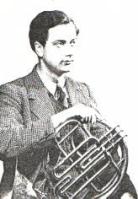 We will soon greet 1st September this year to recollect the genius Dennis Brain who was killed by a car accident 50 years ago. A plan of a gathering to remember him with 50 admirers has made.

I had sometimes met good horn players who occasionally appeared as new genius, but I returned again to Dennis Brain. I know he is a pleasant person without remaining in splendour of a performance.

Let's share a time to honor Dennis Brain, and please tell your story. Let's meet in Akashi where the Japanese meridian goes along.



Naoki Sakamoto
(Sakura Philharomonic Orchestra, Chiba Pref.)
Music
Composer
Title
Explanation
Marin Marais
Le Basque
Dennis played it as an encore at his Wind Ensemble Concert in Edinburgh Festival on 24th August 1957. Le Basque is known as the piece of his last solo performance.
Mozart
Duet for two horns No.12
He played it with Neil Sanders in BBC Radio Programme 'Lecture Recital Early Horn' on 23th July, 1955.
Mozart
Rondo from Concerto No.4 K.495
Dennis recorded it for the first time with Halle Orchestra on 1st June, 1943. Tina Brain (Dennis's niece) arranged the Rondo for horn duo.
Peter Maxwell Davis
Fanfare - Salute to Dennis Brain
(Dennis Brain Day performance)
Michael Thompson premiered it at Djanogly Recital Hall on 25th March 2007 in East Midlands Horn Festival.
(Special thanks to Mr. Stuart Bower who provided us this music.)
William Walton
Popular Song
from Façade
Philharmonia in Dennis Brain era recorded Façade twice. One by Lanbert and the other by the composer himself. Someone arranged this music for horn quartet and wood block!
Humperdink
Evening Benediction
from Hänsel und Gretel
Herbert von Karajan and Philharmonia recorded the complete opera. Dennis and his colleagues made a supreme performance at the top of the overture.
Speaker's Corner
Talk your own Dennis Brain stories
Recordings
Handel / Water Music etc.
The Royal Air Force Symphony Orchestra conducted by Rudolf O'Donnell (The first public performance) *
Exhibition
Signature
Photocopies of a Scrap book of the Royal Air Force Central Band US Tour 1944/45 (The first public exhibition) *
Original RAF Concert Programme (January 19th, 1945) (The first public exhibition)*

The materials marked * were kindly sent from Gil Singleton, Bandmaster of the Central Band of the Royal Air Force.
He will soon publish a book entitled "Uniforms of Musicians in the Royal Air Force and its Predecessors - A Photograpnic History".
Dennis Brain's signature was from Naoto Kinoshita.
OTHER PERFORMANCES ON THE DAY
Holy Trinity Church , Leeds, England 11:00

Aberdeen, Scotland 16:00
Robert Martin, principal horn of the Aberdeen Sinfonietta

The Swiss Italian Conservatory, Lugano, Switzerland 20:30
American Horn Quartet along with Kristina Mascher

---

Japanese flag from http://www.fg-a.com/