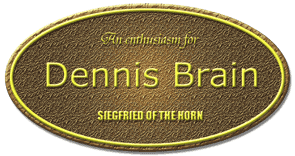 Obituary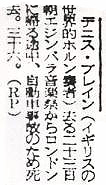 On September 2, 1957, the Yomiuri Shimbun conveyed that British world-famous horn player Dennis Brain died of an car accident from Edinburgh festival on his way to London.

2008/1/20 (Sun)
4 horn concertos by Mozart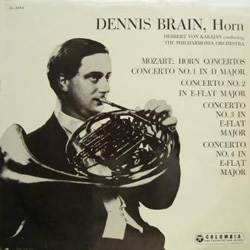 This is Nippon Columbia OL-3214 issued in May 1962. The cover photograph is the same as British Columbia 33CX-1687 (Mozart, Jacob and Ibert) taken by Derek Allen.



The back side commentary is "About the horn concertos of Mozart" by Alan Civil. Walter Legge's obituary, carried at first by Gramophone November 1957 issue, is also enclosed.



I am sure many people knew that Dennis Brain had already been a legendary horn player shortly after his death. Will not there be many person who became to a fan with this LP?

2008/1/22 (Tue)
THE ART OF DENNIS BRAIN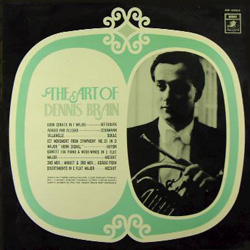 This is the first Japanese "The Art of Dennis Brain" (Toshiba EMI AB-8065) issued in late 1960's. Toshiba continued releasing "The Art of Dennis Brain" after this.

2008/1/23 (Wed)
visit Japan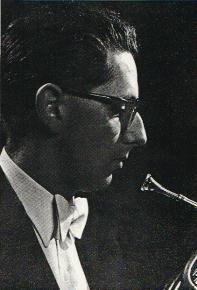 It is said that Dennis Brain had a plan to visit Japan, but did not come true. The renowned British horn player who visited Japan for the first time was Barry Tuckwell. He played Mozart concerto No.2 with London Symphony Orchestra (Istvan Kertesz conducting) on world tour in 1964 (LSO Diamond Jubilee) and let the audience growl.

2008/1/24 (Thu)
"The Art of Dennis Brain" the 2nd edition

Toshiba EMI's "The Art of Dennis Brain", a comprehensive compilation in 3 volumes of 2 LPs each, was released in early 1970's. Its Vol.1 (EAC-60049/50) contained concertos of Mozart and Strauss, Vol.2 (EAC-60051/52) quintets of Mozart and Beethoven, and Vol.3 (EAC-60053/54) Hindemith, Mozart No.2 (1946 recording), Haydn's horn signal, Berkeley and Jacob. American Angel records' set (lower photograph, Seraphim 60040, 60073, 60169) was in 3 volumes of single LP.

2008/1/25 (Fri)
The Portrait of Dennis Brain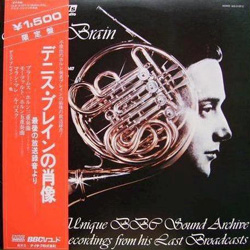 Teichiku Records Co., LTD. released BBC Sound Archive recordings titled "The Portrait of Dennis Brain" in 1978. What a happy encounter Japanese enthusiasts never knew at that time!

2008/2/3 (Sun)
"The Art of Dennis Brain" the 3rd edition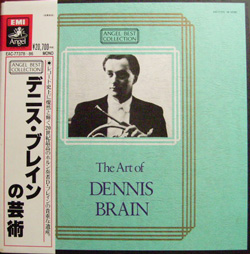 In 1980 Toshiba EMI released The art of Dennis Brain (9LPs in a box) the third generation which contained Mozart's Divertiment No.17, K.334 by Lener String Quartet with Aubrey and Dennis Brain as a new reproduction.



No matter how much having been excited when I obtained the box displayed in the shopwindow of a record shop!
2008/2/3 (Sun)
the other "The Art of Dennis Brain"

Nippon Columbia released the other "The Art of Dennis Brain" (OW-7218-BS) in October 1980 (photo left). Its original was EMA IGI-370 (photo right) which had been released one year before.



I like the words by Atsushi Miura on the record jacket.
Dennis Brain's horn will sound today and tomorrow as far as a record exists around us!
2008/2/8 (Fri)
1940's recordings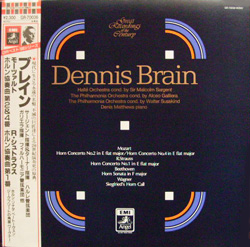 In 1983 Toshiba EMI released GR-70036 which attracted recordings of young Dennis Brain. It is known that Dennis likes Strauss Concerto No.1 with Alceo Galliera most among them. So do I!
2008/3/22 (Sat)
Kempen or Kempe? (Now settled problem)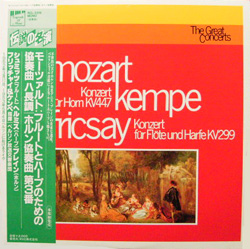 This is the last Japanese Dennis Brain LP of Mozart Concerto No.3 KV447 with RIAS Sinfonieorchester Berlin on May 4, 1953. It had been believed that the conductor was Paul van Kempen, however, Atsushi Miura strongly insisted and specified it not Paul van Kempen but Rudolf Kempe in his commentary of this RVC RCL-3319 (P1984).
At last I asked this problem to an archivist of German Radio in winter 2009. The answer was : The concert was conducted by Paul van Kempen and the venue was Titania-Palast Berlin. That is the conclusion!
2008/3/22 (Sat)
Moving Dennis Brain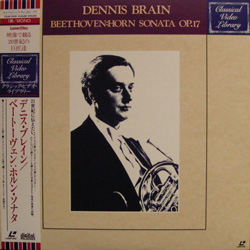 There was a movie of Dennis Brain playing Beethoven's Sonata (British Anvil film, 1952). Toshiba released it in a Laser Disc format (TOLW-3548, P1991). I saw him moving for the first time.
2008/3/23 (Sun)