K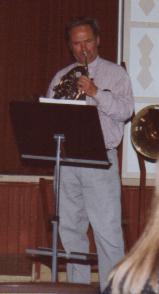 jell Moseng, an amateur horn player and member of the Danish, Norwegian, Swedish, French, Dutch horn clubs, passed away on October 24 th, 2000. He was Danish, actually Norwegian by origin. He died suddenly from a heart attack. Kjell and I have had frequent contact concerning musical topics, especially about Dennis Brain. His huge collection (78, LP, Tape, CD) is highly famous. Hans Pizka, principal horn player of Bayerish state opera, refers Kjell's collection on his page.
He first mailed me in May just six months ago. He told me his great interest of my page, and he was very impressed how much have been Brain's recordings issued in Japan. He said my requests for reissues were interesting. He supposed we all have our favourites, and he mentioned the Mignon Ouverture (Thomas) with NSO Fistoulari (Decca K 1176). He also loved Oberon with Braithwaithe, and he hoped they would survive in the post!
Also he pointed out some missings of my contents. For example, the Haydn trio Pieta di me has been issued on a Joan Sutherland recital CD(Bella Voce BLV 107.001). Moreover, he advised me to add a concert, Oslo Philharmonic / Fjelstad held in Dennis Brain's Scandinavia tour, october 1956. He lived then in Norway. Maybe he went to the concert, and looked Dennis's performance by his own eyes.
Two of his friends saw Dennis Brain in a newsreel, playing the Siegfried Horn Call at Edinburgh festival, a brief glimpse. Unfortunately he missed it. It was a time before televison when they went to the cinema to view the news of the world. He wondered where the film was now? He had of course regretted it since!
Email exchanges between Kjell and I started like that. He discovered that he had some periodicals from to 1952-56. There was a concert survey, or preview of London and out of London concerts. He thought they were fairly accurate, so he not only reported 50 concerts on email but also sent me photocopies thoroughly! Of course they were great helpful in completing my DB survey.
On the other hand, Kjell did not forget to point out a few corrections: Though it has been said that Brain made the second performance of Strauss second concerto, it is not true, it was performed twice during 1944 in Dresden by Max Zimolong. And the Haydn 1 concerto was also performed in Germany in the 'thirties, a tape from 1938 (Fritz Huth) was confirmed.
Though I had no return against Kjell's kindness, he told me, 'Do not worry if you don't have anything in return yea'. But why was he so kind to me? Probably the concert register on 'An enthusiasm for Dennis Brain' was excessively childish, so he encouraged me to work hard by furnishing his own valuable materials to me.
Someday I reported him some informations from the Japanese CD-market. Among them he was suprised the news Paris conservatoire orchestra Japan tour 1964 was reissued on CD. He had also great interest of Lucian Thevet and had met him in Bordeaux a few months ago. He had seven kinds of Thevet's Ravel Pavane and he said the best were clearly the two with Cluytens. I obtained the new CD for Kjell, and noticed him quickly. But he gave no answer...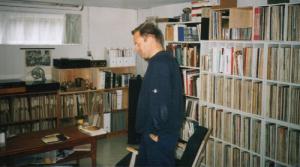 I lost my best friend in the world...
Kjell and I were friends in connection with Dennis Brain for only 6 months. But he understood me very well and gave me a lot of things. I received his last e-mail on October 24th. I was much more surprised to hear from his wife that he passed away on the day! I can't believe it. I deeply lament for his sudden death.
Yukihiro Okitsu